Paulding County Hospital Quick Links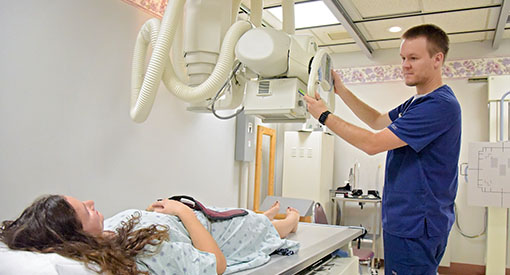 Medical Imaging
Not so long ago, nearly all a radiologist could do was diagnose a broken bone through an X-ray. Times sure have changed. Today, our medical imaging department can use technologies ranging from nuclear medicine to computed tomography to find tumors, blood clots, strokes, gastrointestinal conditions and much more.
Our team consists of highly-skilled radiologists and technologists who have years of training, education and experience. That team has access to some of the best technology available, providing patients with:
Computerized tomography (CT)
Magnetic resonance imaging (MRI)
Ultrasound
Echocardiogram
Nuclear medicine
Digital mammography
Fluoroscopic procedures
General radiological studies
Bone density studies
Tele/radiology rapid readings
If you have questions about medical imaging services available at Paulding County Hospital, talk with your primary care provider or call 419-399-1131.
High Field Wide-Short Bore MRI
MRI technology is a critical component of healthcare, yet for many patients, just the idea lying motionless inside a tube is nearly unbearable. Our high field wide-short MRI system allows claustrophobic patients, as well as those up to 550 pounds, to receive the care they need without anxiety or discomfort.
Compared to a traditional MRI machine, high field wide-short MRI has a wider opening and much shorter tunnel. The 2.3-foot diameter opening offers generous elbow and head room, with nearly one foot of free space between the patient's head and the magnet. Other benefits include:
More than 60% of exams can be completed with the patient's head completely outside the bore
A feet-first approach allows patients to hold the hand of a loved one for assurance
Exams are typically shorter than with traditional MRI equipment
high field wide-short MRI provides comfort, but doesn't sacrifice quality. Superior image quality means doctors can read results more quickly and accurately, and patients are less likely to need additional MRIs.